Update Feb-2017:
as @jsfaq kindly pointed out on Twitter, this recording error also effects regular Movie Recording in QuickTime!
There is a unfixed Screen Recording bug in QuickTime Player for macOS affecting even the most recent versions like macOS Sierra 10.12: it presents itself after a few minutes into a running Screen Recording session on your Mac, stopping with the message:
Recording stopped
Try recording again.
I encountered this error on my MacBook Pro in new Screen Recordings repeatedly – usually while somewhere between 3 to 10 minutes into an ongoing recording session.
Thanks to an user feedback in the Apple discussion forums, this issue seems to be related to the "App Nap"-feature, introduced some times back in OS X Mavericks and available on Apple Laptops and some Desktop models, in order to save battery power by suspending Apps that are not actively used.
Update: QuickTime auto-adjusts the frame rate, then flexes time as needed, resulting in choppy out-of-time recordings and the "recording stopped" error.
So in short:
disabling App Nap seems to resolve the QuickTime "recording stopped"-error from happening.
Fix to resolve QuickTime Screen Recordings from stopping unexpectedly
First of all make sure to keep your Laptop connected to a power source while doing a recording in QuickTime.
(theoretically this should also overwrite the App Nap feature – however, I was able to reproduce it even when the Laptop was charging!)
Temporarily disable the App Nap feature on your Mac completely
Go to System Preferences > Energy Saver
Disable the checkbox "Enable Power Nap while on battery power"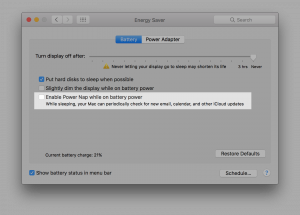 Unfortunately it seems not to be possible to disable App Nap selectively for the QuickTime Player application only.